The Hightower Symposium constitutes the culminating event of students' academic development within the majors of Anthropology & Sociology. Scheduled for spring quarter of senior year, it provides a challenging public occasion for students within these majors to present their senior projects (SIPs) to their own student colleagues, to faculty, parents, and internship supervisors.
Dr. Raymond L. Hightower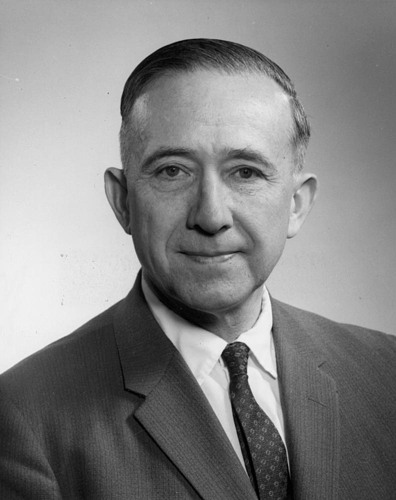 Dr. Hightower was the second sociologist in the illustrious history of the Anthropology and Sociology Department. For most of his 37 years at K, he was also the only professor in the department. Hightower was hired in 1934 by one of the most beloved and admired of Kalamazoo College's presidents, Dr. Allen Hoben. "Hoben chose faculty," one close observer remarked, "because of their broader commitments, their integrity (rather than narrow professional expertise), and their intense caring for the individual student." In promoting a "fellowship of learning," as he called it, Hoben did very well in selecting Hightower.
The City of Kalamazoo was Hightower's passion, and he served the city unstingingly, not only in his research and the contributions of his students, but also through countless public speeches, dozens of directorships, and multiple positions of special social responsibility. Hightower structured his courses to encourage attention to practical issues, especially those reflected in the local community. Hightower had a personal commitment to multi-disciplinary study. He believed that psychology as well as sociology were crucial to the practice of social work. Out of a conviction that Dr. Raymond L. Hightower's life can remain a particular source of inspiration, several faculty members and a group of alumni created the Hightower Symposium.